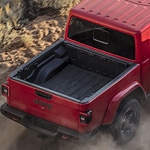 Jeep's all-new Gladiator is one of the leading midsize pickup trucks for sale today. Find out why it comes with all of the design features and performance that you look for in a reliable pickup today.
When you first look at the Gladiator, you might assume that it is just like any other Jeep SUV. After all, the cabin of the Gladiator is essentially an SUV. It has four doors and two rows of seating that can accommodate up to five people.
The Gladiator's pickup bed has the dimensions needed for it to serve for any work-related purpose. You can use it on the farm or ranch or on a busy construction site. The new Gladiator also has a powerful engine. This large and sturdy engine gives it thousands of pounds of both towing and hauling capacity.